a to the k
angry_koala iz hot like juicy jalapeños.
kicking that sick shit & bringing da bam.
mixing supa dopeness with street art and graphic design.

angry_koala is PMAA – positive mental attitude art.
it's all in the remix: illustration meets painting meets
graffiti meets comic meets graphic design meets handmade.
analog and digital.
angry_koala is something like an artist group.
our tree can be found in hamburg city.

#HamburgOstRepresent
we teamed up with HKDNS in 2017.
new best friendz with a high output level.

angry_koala wants 2 make you smile and think.
pumping out murals, canvas, art toys, shirts, posters, stickers.
graffiti and illustration on everything you can imagine.
you name it. we make it.
feel free 2 contact us.
and follow us here:

we make the world a bit more cute and colourful.
love, peace and keep it real!
*koalarizzle 4 life*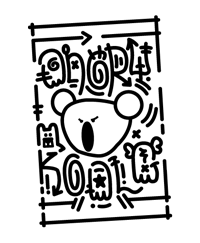 The real angry_koala show reel
services
illustration
art direction
concepts
sketching
digital artworks
paintings
handmade art toys
corporate murals
wall paintings
graffiti
posters
stickers
logo design
graphic design
workshops
clients / cooperations
Achtung! | Adidas | Book a Street Artist | clubkinder
Djinns | Dock Europe | Eindruck | Emmi Germany
Fusion Festival | Fairbock(t) | go2know | Giyotin
Gourmet Connection | HAPEV | Habitat Festival
Hamburger Kultursommer | Haus der Familie | Hochbahn
Intersoft Consulting | Jung von Matt | KNSK | Kulturkosmos
Salzig | Scholz and Friends | Schrødingers
FC St. Pauli | Street Art School
Urban Wildlife | Viva con Agua | Waagenbau
exhibitions and live paintings
Millerntor Gallery #11 | Hamburg, July 2023
Stadtart x Artstadt | Hamburg, July 2022
Hamburger Kultursommer | Hamburg, July 2021
Skate Aid x clubkinder | Hamburg, July 2021
Schrödingers 9×9 | Hamburg, September 2020
Tapetenwechsel | Wilhelmsburg, January 2020
Betonparade | Wilhelmsburg, October 2019
Artbase | Neustrelitz, August 2019
Habitat Festival | Hungriger Wolf, July 2019
clubkinder @ Millerntor Gallery #9 | Hamburg, July 2019
13er Blockparty | Hamburg, June 2019
FairHafen Skate Jam | Boizenburg, April 2019
Fair Friday 2019 | Boizenburg, April 2019
elb:art 2018 | Boizenburg, August 2018
Yard 5 Open Lab | Berlin, July 2018
Urban Up | Leipzig, July 2018
Millerntor Gallery #8 | Hamburg, July 2018
Fusion Festival | Lärz, June + July 2018
Fair Friday 2018 | Boizenburg, April 2018
Lange Nacht der Museen | Hamburg, April 2018
Teufelsberg reloaded | Zurich, January 2018
Street Art School Group Show | Hamburg, December 2017
Urban Wild Life Group Show | Hamburg, December 2017
angry_koala x HKDNS x Eindruck | Hamburg, September – December 2017
Stilbruch | Berlin, September 2017
elb:art 2017 | Boizenburg, August 2017
Berlin klebt | Berlin, July 2017
Fair Friday 2017 | Boizenburg, April 2017
Berlin Graphic Days | Berlin, July 2016
your_brain_goes_baaam! | Hamburg, November + December 2015
TASTE – Festival der Künste | Hamburg, August 2015
ART…ESSENZ | Berlin, July 2015
B.AGL | Berlin, April 2015
VisonActionChange | Hamburg, November 2010
Kunst auf dem Hansaplatz | Hamburg, September 2009
Bewegung gegen Bewegung | Hamburg, October 2007
Gewalt – und weiter … | Bad Oldesloe, August 2006
Ultrahocherhitzt | Hamburg, July 2006